Commercial Air Conditioning Services in Blaine, MN and Surrounding Areas
Serving the Twin Cities Metro and Surrounding Areas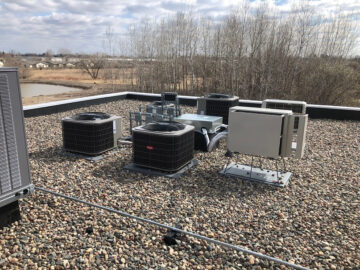 Call the commercial air conditioning specialists at Air Mechanical, Inc. for all of your commercial AC needs. We will work to find you a new unit that fits your commercial cooling needs and make sure that it fits your property and operates at peak efficiency. If we're replacing an older system, we'll make sure the older unit is safely removed and that we cause little disruption to your property and your day-to-day business needs.
We can also show up for 24-hour emergency services in case you notice problems with your system that cannot wait for repairs. We show up when we say we will, so you don't have to wait around for hours. Finally, our routine maintenance services can help to protect your AC system, preventing breakdowns, improving efficiency, and potentially helping the system to stick around for longer.
Air Mechanical, Inc. offers commercial air conditioning services in the Twin Cities and the surrounding areas. Contact us today for an appointment.