Prevent Repairs with This One AC Service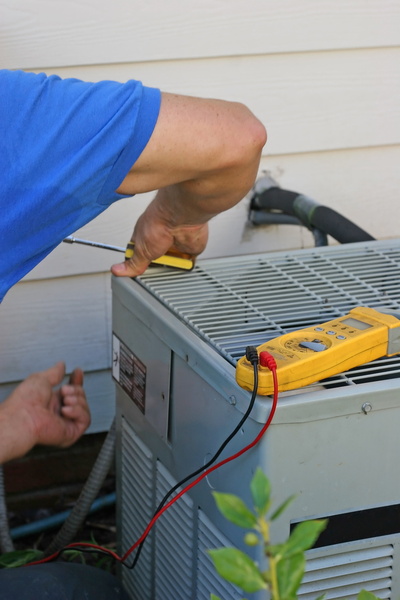 It's that time of year again—temperatures are still on the cool and rainy side for now, but soon enough they'll warm up and you'll have to start thinking about your air conditioning system. Our summers require their use on a pretty regular basis. That means they go through a lot of stress and natural wear and tear, which can lead to Columbus, MN HVAC repair needs. The good news is, there is a way to prevent the biggest and costliest of repair needs, with one AC service—preventive maintenance! This should be done on a yearly basis for your air conditioner, unless you're using a heat pump. Since heat pumps are year-round systems, maintenance should be done twice a year for these units. Checking for repair needs is an important part of HVAC maintenance, and if you manage them ASAP you'll reduce the chance of running into a much bigger problem later on.
"Do I Really Need Maintenance Every Year?"
Well, yes. Maintenance is not a "luxury" service for the lucky few—rather it's an important part of keeping your air conditioning system in good condition. There are a number of advantages to having regular maintenance done, such as:
Fewer Repairs: As we stated above, when you tackle AC repair needs as soon as you can, there's less of a chance of a bigger emergency later on. This is because, during your appointment, our technicians inspect every inch of your home AC system, looking for small problems that may be developing into bigger ones. The problem might be as simple as a clogged air filter (be sure you're changing your HVAC air filter every 1-3 months during periods of system use) or can be something more serious like a leaking compressor or loose fan motor. Whatever the case may be, we'll adjust these things for you right away—or if we discover it needs a bigger repair we'll let you know so you can get repairs on your schedule at your earliest convenience.
Improved System Efficiency: No matter how small a problem exists with your air conditioner, the longer you neglect or ignore the issue, the more negatively your AC system will be impacted. On the other hand, keeping up with maintenance appointments allows the cleaning and adjusting of components to make your system perform more efficiently.
Longer Equipment Lifespan: If your air conditioner functions as efficiently as it's supposed to—which it will if you stay on top of maintenance, then it will also last as long as it's meant to. Even the smallest of issues can take a toll on your air conditioner as they add up. But routine maintenance helps us (and you) stay on top of these small problems, and extend the life of your HVAC equipment so you don't have to worry about premature replacement.
Peace of Mind: Without preventive maintenance, every little noise you hear or glitch you discover from your AC system is going to make you wonder if something is wrong. Even if that's not the case, you'll have a cooling system that can fail on you at any given moment. When it's in the middle of summer, on a hot day, and all our HVAC technicians are out on emergency calls, the last thing on your mind is going to be maintenance. Instead, you'll be wondering how to resolve the problem quickly and affordably—which can lead you to hire whatever handyman you can find (leading to a whole different set of problems).
For reliable HVAC services and more, including scheduling your next air conditioning maintenance appointment, contact Air Mechanical, Inc. today!