5 Signs You Need AC Repairs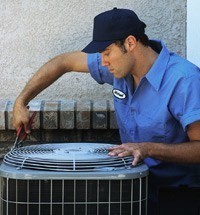 When your air conditioner starts to malfunction you don't want to ignore the issue. It will only get worse and summer will only become more uncomfortable. Instead, you want to reach out for professional AC repair in Plymouth, MN so that whatever is going wrong can be made right again.
If you have noticed that your home isn't as cool as usual or something just seems off about your AC system, you shouldn't ignore it. It may actually help to know what the signs are to look for that you do need to get a repair for your cooling system. The more you know the sooner you can get the issue fixed.
5 Indicators that You Need AC Repairs
If you keep yourself on the alert for any of these warning signs you may be able to catch an AC repair earlier than usual. This helps prevent the issue from worsening and helps to prevent an early system breakdown too. Here are the signs to be aware of:
Concerning noises: Sounds can tell us a lot about what is going on with your air conditioner. If you have an AC system that is making any concerning noises like rattling, screeching, or banging, it is going to be a sign of a problem in your unit ranging from a dirty filter to a broken blower fan.
Increased energy bills: Your utility bills will fluctuate a bit based on your use of your air conditioner. However, if you are noticing a big leap in the price of your electricity it can be an indicator of trouble. An AC that is having trouble cooling things off will use a lot more electricity than one that is working properly.
Reduced airflow: Your air conditioner should produce a steady flow of cool air. If you are receiving a trickle of air instead, there may be a problem with your filter or fans that requires professional repairs.
Lower cooling output: During summer, you don't want to encounter a system that isn't able to reliably cool your home. This will make this warning sign a bit easier to catch if it does pop up though. An AC unit that can't cool is one that needs serious help.
Short cycling: A full cooling cycle is around 15 minutes in length. If your unit is instead only running for 10 minutes or less, it is a sign of a problem in your air conditioner known as short cycling. The sooner this problem is addressed the better as short cycling can take a huge toll on your AC unit.
Professional Repairs Get the Job Done Right
When your air conditioner is struggling to get your home cool the way it is supposed to, you will want to get the issue identified and repaired as quickly as possible. To do this, you will want to reach out to a team of professionals for the service you need. When you need to repair your air conditioner, you can rely on us to get the job done right so you can stay cool all summer.
Contact Air Mechanical, Inc. today to schedule your services.