It's Not Too Late to Schedule AC Maintenance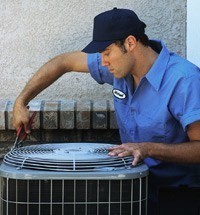 Summer may not be playing out the way that many of us thought it would, but we hope you have still been able to enjoy these days of warmer weather. Biking, visiting the Millenium Gardens, or even going to an outdoor concert are all great ways to safely enjoy the warmer temperatures before returning to your comfortably cool home. In the interest of keeping your home that comfortable place to return to after a long hot day, we want to ask you a question: "Did you schedule your AC maintenance appointment this year?"
If you are realizing that you blanked on scheduling your yearly tune-up, it's okay! There's been a lot of upheavals lately so we don't blame you and we are happy to say it isn't too late.
"Can't I Just Skip Maintenance This Year?"
Maybe you're thinking that it is just a little too late to perform maintenance on your AC system this season and you are considering skipping it altogether. We urge you not to!
Late maintenance is always better than none. While we encourage people to schedule their tune-ups in the spring this is usually because it is easier to get an appointment with one of our technicians rather than because it is the only point in time to get the service done. If you haven't gotten your yearly tune-up taken care of yet, please don't hesitate to reach out to us because it really isn't too late.
"Does Late Maintenance Really Do Me Any Good?"
So, if you are a little late in scheduling your annual maintenance appointment, you may be wondering if getting a technician to your home for this service is worth it. Will there really be any benefits? The answer is, "Yes, absolutely!"
Better energy efficiency: An air conditioner that doesn't get a yearly tune-up is going to lose a certain percentage of its energy efficiency each year. On the other hand, even if your appointment is later in the year than usual, getting that once-a-year tune-up will help maintain a better level of energy efficiency, helping your comfort and lowering your bills.
Fewer repair needs: The process of maintenance is one that addresses a multitude of small problems before they are able to escalate into full-blown repair needs. That's right, even late maintenance is going to help prevent frequent and expensive repairs. While it won't stop every air conditioning repair in Plymouth, MN, it will keep them fewer, further between, and more affordable.
Manageable energy bills: When your air conditioner is struggling against a dirty filter or loose fan blades, it will need to use extra energy to do its job. In contrast, maintenance will address these issues and help your AC operate more effectively and efficiently. This means it will use less energy than it would otherwise, helping you save money.
"Can I Perform a Tune-Up Myself?
Hopefully, we've convinced you that late maintenance is always better than none at all. However, that doesn't mean you should go try to tackle the job yourself! Amateur or DIY service is likely to cause more problems than it solves. Instead, rely on our team of pros to get the job done right.
Contact Air Mechanical, Inc. to schedule your appointment today.